10 Best Camera Lens Cleaning Kit
What is the Best Camera Lens Cleaning Kit
A lens kit should be your best friend if you're a photographer.
It might not be as exciting as the latest camera gear, but it's just as vital to your DSLR or mirrorless camera if not more.
Regardless of how good your composition or subject is, a single fingerprint, smudge or speck of dust can ruin your shot at any time.
Lenses are pricey, and you shouldn't clean them with the corner of your shirt.
Tissues can be equally as bad since they'll leave behind some lint.
You need a cleaning kit with an absorbent microfiber cloth, lens cleaning solution, special brushes, etc.
Most kits also have a small air blower to remove tiny dust particles and a carrying case. Basically, that's all you need to keep your camera in top shape.
When it comes to usage, lens cleaning kits are somewhat basic, and it doesn't take much to learn how to use them.
That said, let's look at what you should consider when buying a camera lens cleaning kit and some of the best options available today.
What Should You Consider When Shopping for A Lens Cleaning Kit
Carrying Case
A proper camera lens cleaning kit should have a carrying case. These cases are compact and designed to keep all components organized and ready when you need them.
You're already juggling between filters, lenses, lights and any other specialized equipment.
Therefore, you don't want to waste time looking for a lens cleaning solution because you risk missing out on the perfect shot.
A carrying case also protects the cleaning tools and keeps them clean. The microfiber cloth won't be any good if it accidentally slips out of your bag and accumulates dust.
Also, you don't want an alcoholic cleaning solution coming into contact with your memory cards.
Some camera lens cleaning kits have padding and zipper, while others are see-through, allowing you to see when supplies are running low.
The trick is getting a kit with a case that isn't too bulky and won't occupy a lot of space in your camera bag.
Some photographers have a large lens cleaning kit on their premises and a compact version for traveling.
To find the best case, pay attention to how you travel, pack your camera gear and the amount of physical activity involved in your shoots.
Price
When it comes to camera equipment, you get what you pay for.
This means that top-notch, well-built lenses with grand optics don't come cheap. Fortunately, keeping them in shape is a much less pricey undertaking.
Camera lens cleaning kits are naturally disposable.
For instance, the lens cleaning solution, lens cleaning swabs, and wipes must be replaced. As a result, even the best camera lens cleaning kits aren't particularly pricey.
In photography, any chance you get to save some cash, you should take it, especially if you haven't gone pro yet and earning money from your equipment.
So don't be afraid to spend a bit less on a lens cleaning kit if it still offers the tools you need.
Versatility
Versatility is key when it comes to camera lens cleaning kits.
You never know whether you'll be cleaning an 18-35mm f/1.4, 50mm lens f/1.2, or a 200mm f/2.8 lens.
Some of the tools a camera lens cleaning kit should have include:
Carbon Pen
A carbon-tipped pen can clean tiny dust particles without needing any cleaning solution to remove any fingerprints and smudges.
It's a common and potent option when a microfiber cloth can't get the job done.
A concave pen is perfect because it will match the contouring shape of lenses.
Note that you should wipe it down afterward to eliminate any residue.
Blower
A blower pushes blasts of air inside the lens, further eliminating stubborn debris and dust particles.
Some higher-end lens cleaning kits have a mini vacuum that sucks up the debris or dust removed during cleaning.
Brushes
The brushes inside the lens cleaning kit come in all lengths, shapes and sizes.
However, the purpose is pretty much the same, eliminating dust between parts with their soft bristles.
Try and get a camera lens cleaning kit with a retractable brush. This brush takes things up a notch, keeping it clean and secure between uses.
Lens Cleaning Solution
Lens cleaning solutions are made with a host of chemicals and constituents.
So before you buy any camera lens kit, confirm that the included lens solution is safe for your camera and lenses.
Also, make sure that the solution won't leave any marks, streaks or tracks. However, you can buy the kit and get an alcohol-free plant-based lens cleaning solution.
In addition, the spray bottle shouldn't leak as you toss it inside the carrying case.
This helps you avoid a disaster the next time you open your camera bag.
When cleaning, spray the solution on a microfiber cloth rather than the lens to prevent the liquid from penetrating delicate parts.
Microfiber Cloth
A microfiber cloth is infinitely helpful when cleaning sensitive lenses and screens. A carbon pen should be the first thing you pick up for oils and tougher surfaces, followed by the cloth.
This is because a cloth can't eliminate deep smudges on its own. Some kits now comprise the cloth as a full hand glove which can come in handy when you want to clean tight spaces.
Scope
Sometimes it can be hard to see what's stuck inside a lens or camera; this is where a scope comes in.
This small device acts as a magnifier giving you a better view of the insides of the camera or lens so you can thoroughly clean it.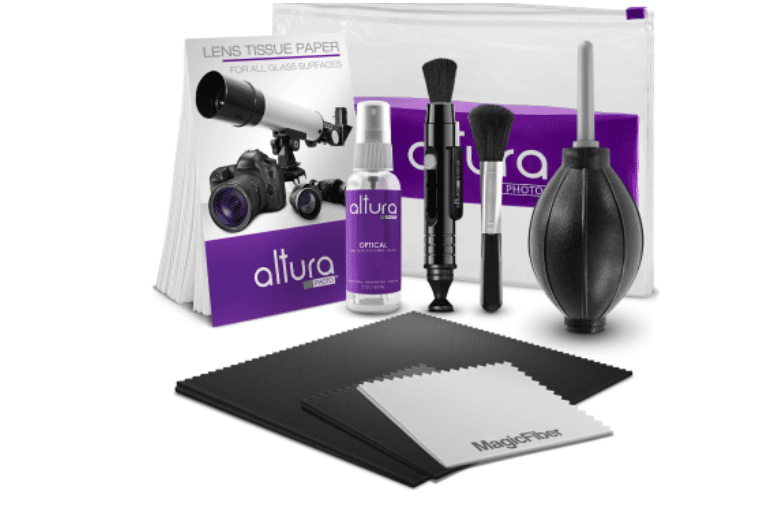 Altura is a brand that's been around for quite some time now, developing quality products for both amateur and pro photographers.
This kit has three premium microfiber cloths for cleaning lenses and screens, gently keeping them free of marks and scratches.
Altura's lens cleaning solution makes the difference here; it's alcohol-free, naturally biodegradable and non-toxic.
Each kit has a transparent, reusable and zipping carrying case plus 50 sheets of premium wipes for additional lens cleaning.
Kit Includes
1x Air Blower
1x Brush
1x Double-sided Lens Pen
1x Lens Cleaning Solution
3x Microfiber Cloths
50x Lens Cleaning Wipes
2. CamKix Professional Camera Cleaning Kit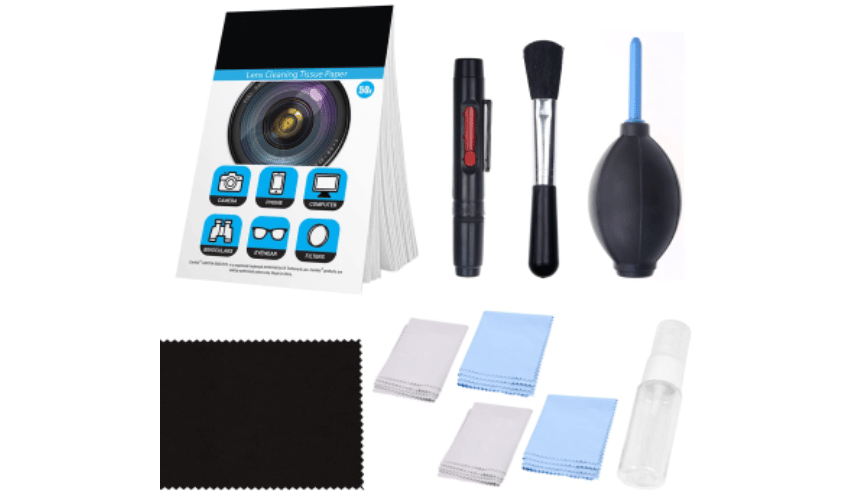 This kit's soft brush can remove debris and dust from crevices and gaps without damaging the lens.
For tougher smudges, the double-sides lens cleaning pen will be a better alternative to clothes because they sometimes can't absorb the oils left by fingerprints.
For such smudges, gently rub the carbon end of the pen in a circular motion on the lens, and you will get a crisp and clear shot. Also, you'll get an opportunity to polish up everything thanks to the included lens cleaning solution.
Kit Includes
1x Air Blower
1x Brush
1x Double-sided Lens Pen
1x Spray Bottle
5x Microfiber Cloths
50x Lens Cleaning Wipes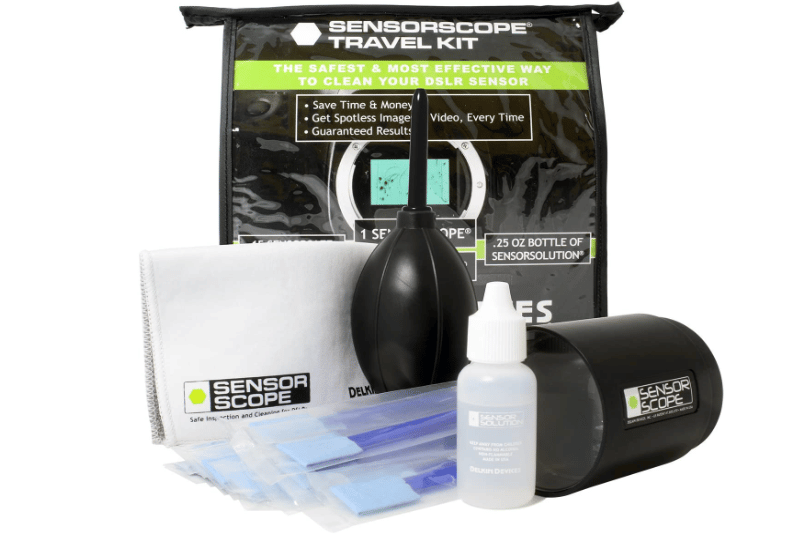 The Delkin SensorScope System Camera Travel Kit is a comprehensive camera lens cleaning kit designed to remove debris or dust from your expensive sensor, ensuring your stills and video are crisp and clear.
Whether it's dry particles that have accumulated or moisture chemically bonded on the sensor's surface, this kit offers the safest and most effective lens cleaning solution.
Kit Includes
1x Air Blower
1x Carrying Case
1x Lens Cleaning Solution
1x Microfiber Cloth
1x SensorScope Inspection Tool
15x Sensor Cleaning Swabs
4. Movo Deluxe Essentials DSLR Camera Cleaning Kit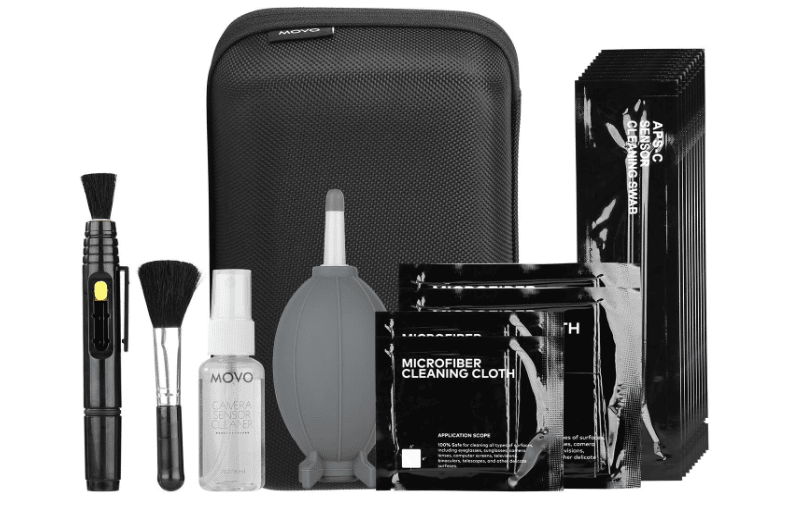 The Movo Deluxe Essentials Kit is a great pick for your DSLR camera. It has a powerful small air blower to blast out particles anywhere you direct it and a super-soft plush sensor brush to sweep off anything unwanted from inside.
You also get ten sensor cleaning swabs, and when used alongside the lens cleaning solution, you can safely clean your APS-C camera sensor.
For the lens, you get a lens pen with a carbon-based formula for effective cleaning and two microfiber cloths.
Kit Includes
1x Air Blower
1x Brush
1x Carrying Case
1x Lens Cleaning Solution
1x Lens Pen
4x Microfiber Cloths
10x APS-C Sensor Cleaning Swabs
5. ParaPace Professional Camera Cleaning Kit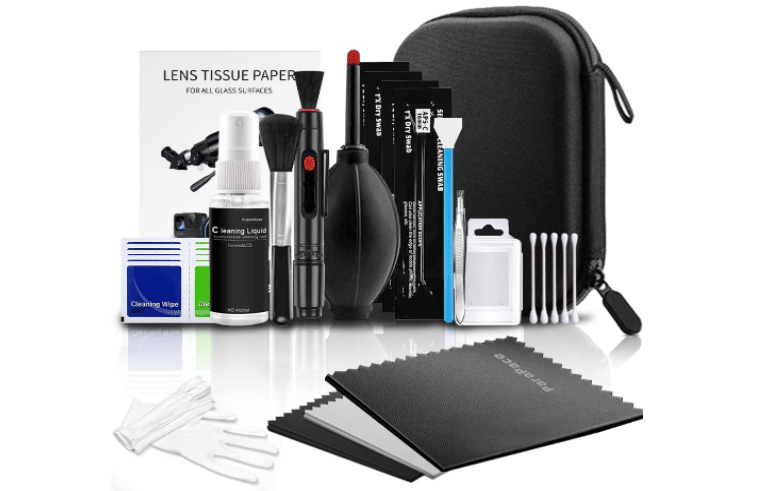 If you're in the market for a proven camera lens cleaning kit, consider the ParaPace pro camera cleaning kit because it will deliver pro-grade results.
You can wave goodbye to harsh chemicals such as alcohol and ammonia in the cleaning solution guaranteeing a secure and convenient cleaning experience.
The sensor cleaning swabs absorb any unwanted particles and seemingly obscure elements.
Apart from that, the double-sided lens pen offers you a safe and convenient way to remove any unwanted dirt from your lens and other surfaces.
Kit Includes
1x Air Blower
1x Brush
1x Carrying Case
1x Double-Sided Lens Pen
1x Lens Cleaning Solution
1x Tweezers
2x Gloves
2x Microfiber Cloths
5x Lens Cleaning Wipes
5x Sensor Cleaning Swabs
50x Lens Paper
6. SANHOOII DSLR Camera Cleaning Kit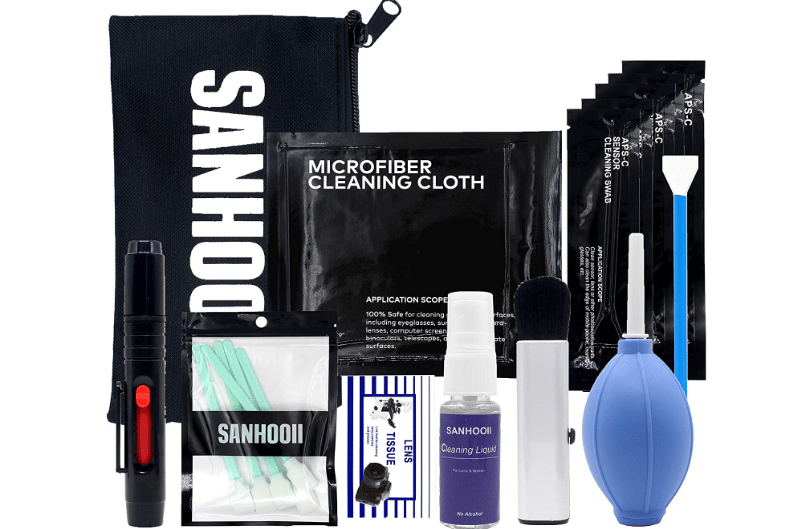 While this kit is designed for DSLR cameras, it can also be used on other gadgets with sensitive screens. It comprises an alcohol-free lens solution and a blower to remove stubborn debris.
The vacuum-sealed sensor cleaning swabs are a secure way to clean an APS-C sensor and remove tiny dust specs that might interfere with its operation.
Depuration sponge swabs are another benefit of this kit. You also get a soft adjustable brush and a carrying case that you can tuck nicely in your camera bag.
Kit Includes
1x Air Blower
1x Brush
1x Carrying Case
1x Double-Sided Lens Pen
1x Lens Cleaning Solution
1x Microfiber Cloth
5x APS-C Sensor Cleaning Swabs
5x Depuration Sponge Swabs
25x Lens Cleaning Tissue
7. UES Camera Sensor and Lens Cleaning Travel Kit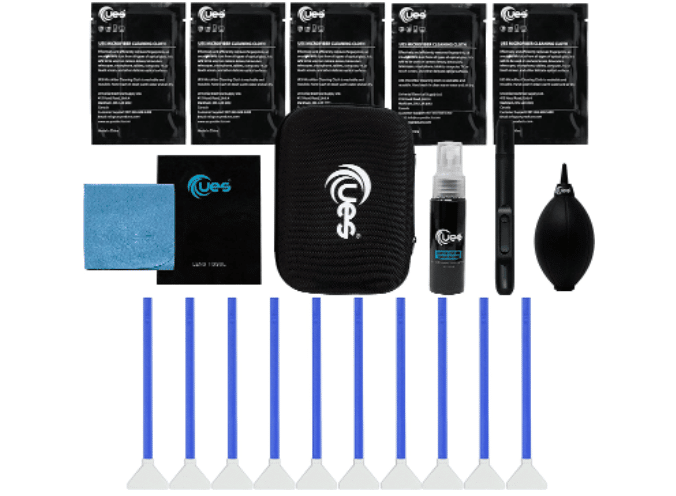 This cleaning kit is ideal for all full-frame camera sensors. The extremely soft and bendable swab head is fully covered by a super soft microfiber cloth.
The swab can help you clean your sensor effectively without harming it. All the swabs are made in a Class 100 Cleanroom and packaged in a dust-free vacuum packet.
Kit Includes
1x Air Blower
1x Blue Screen Cloth
1x Carrying Case
1x Double-Sided Lens Pen
1x Lens Cleaning Solution
2x Microfiber Cloths
10x Sensor Cleaning Rods
50x Lens Cleaning Wipes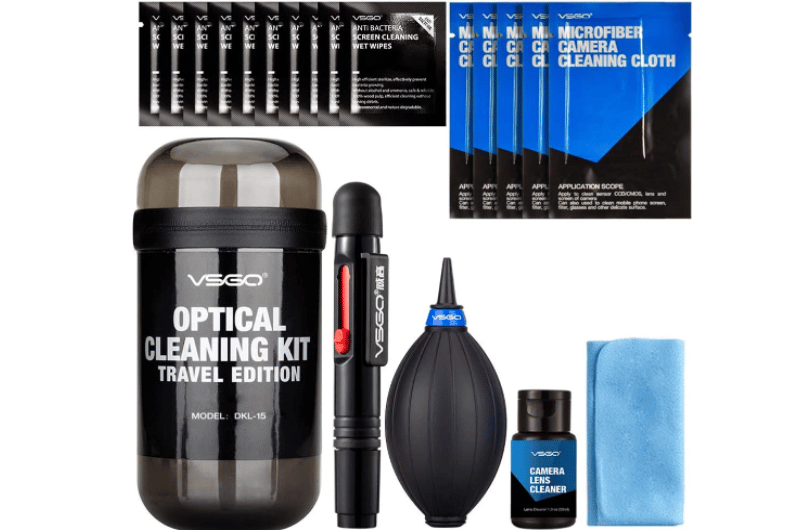 This is one of the highly-rated camera lens cleaning kits on the market because it's from a well-established cleaning brand. The included lens pen is double-sided, making it versatile, and you can also carry it around.
The microfiber cloth is designed for cleaning the camera's body and the lens. Using the lens cleaning solution can have a better cleaning effect on your camera.
Kit Includes
1x Air Blower
1x Blue Screen Cloth
1x Carrying Case
1x Double-Sided Lens Pen
1x Lens Cleaning Solution
1x Lens Cleaning Wipes
5x Microfiber Cloths
9. Zacro Proonal Camera Cleaning Kit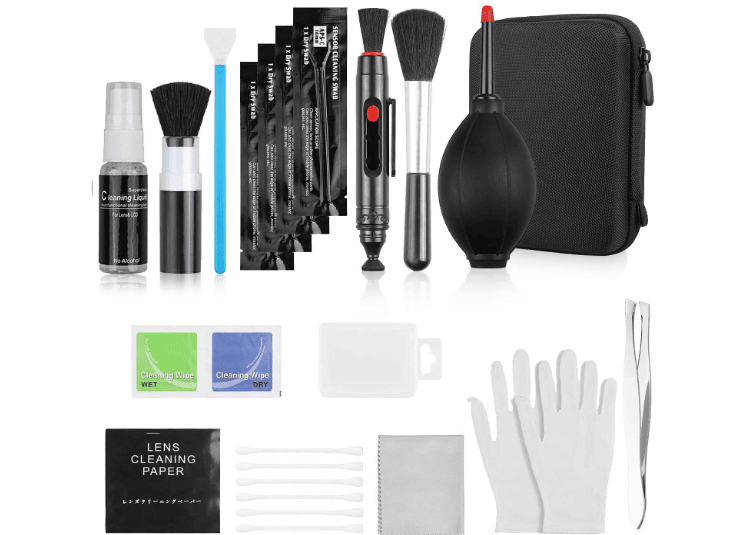 This lens cleaning kit by Zacro can be a great addition to your camera bag. It comprises a soft sensor brush and a rocket air blower that eliminates dust and dirt from your APS-C sensor and other hard-to-reach sections.
This kit also comprises lens cleaning swabs and fluid to eliminate debris and dirt from the camera sensor effectively.
The lens pen comprises a carbon-based formula that can help clean your lens alongside the microfiber cloth that can be used on other gadgets as well.
Kit Includes
1x Air Blower
1x Carrying Case
1x Double-Sided Lens Pen
1x Lens Cleaning Solution
1x Tweezer
2x Brushes
2x Gloves
4x Sensor Cleaning Rods
5x Cotton Swabs
5x Dry and Wet Bag
5x Microfiber Cloths
20x Lens Paper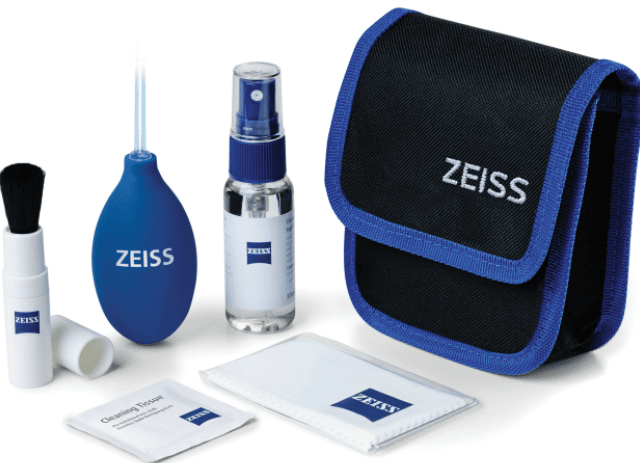 Zeiss's camera lens cleaning kit is a comprehensive cleaning solution for expensive optics such as camera lenses, eyewear, spotting scopes, and even telescopes.
The kit includes both dry and wet cleaning tools. You get an air blower to blow the dust off optical surfaces, while the folding cleaning brush can eliminate stubborn dirt and smudges.
Kit Includes
1x Air Blower
1x Carrying Case
1x Lens Pen
1x Lens Cleaning Solution
1x Microfiber Cloth
50x Lens Cleaning Wipes
Final Thought
Maintaining a clean and working DSLR or mirrorless camera can be tricky and time-consuming. Cleaning the camera often requires top-notch cleaning materials.
So investing in the best camera cleaning kit is vital for the camera's performance and durability.
See Also
Action Camera Microphone Attachment
Best DSLR Cameras for Beginngers