Canon EOS R5 Review, Price and Specs
Canon EOS R5 Review
The EOS R5 is now available after several months of teases and waiting. No camera in recent memory has received the amount of hype that the R5 has had.
The EOS R5 is a powerhouse in every aspect; its 8K (4320p) video outclasses some of the best cinema cameras.
Its 45 Megapixel sensor outshines all but a few of the top mirrorless cameras, and its shooting speeds are at par with the best sports cameras.
Now let's go ahead and look at the features and technical specifications of the EOS R5 in-depth to help you understand how capable it actually is.
Technical Specifications
Image Resolution: 45 Megapixels
Video Resolution: 8K (4320p)
Burst Shooting: 12fps
Connectivity: Built-in Wireless
Display: 3.2″ Fully Articulating Touch Display
Image Stabilization: Yes
Microphone: Built-in directional microphone
Native ISO: 100-51200
Lens Mount: Canon RF
Optical Zoom: 2x
Sensor Type: CMOS
Sensor Size: Full frame (36 x 24 mm)
Storage: 1x SD, SDHC or SDXC
Video Format: AVC (H.264) and HEVC (H.265)
Viewfinder: 5760k dot Electronic
Battery: Canon LP-E6/LP-E6N/LP-E6NH
Dimensions: 5.43 x 3.84 x 3.44 inches
Weight: 26.03 Ounces
When you buy through links on allcamerasportal.com, we may earn a commission at no cost to you. We evaluate products independently. Commissions do not affect our evaluations.
AF (Autofocus)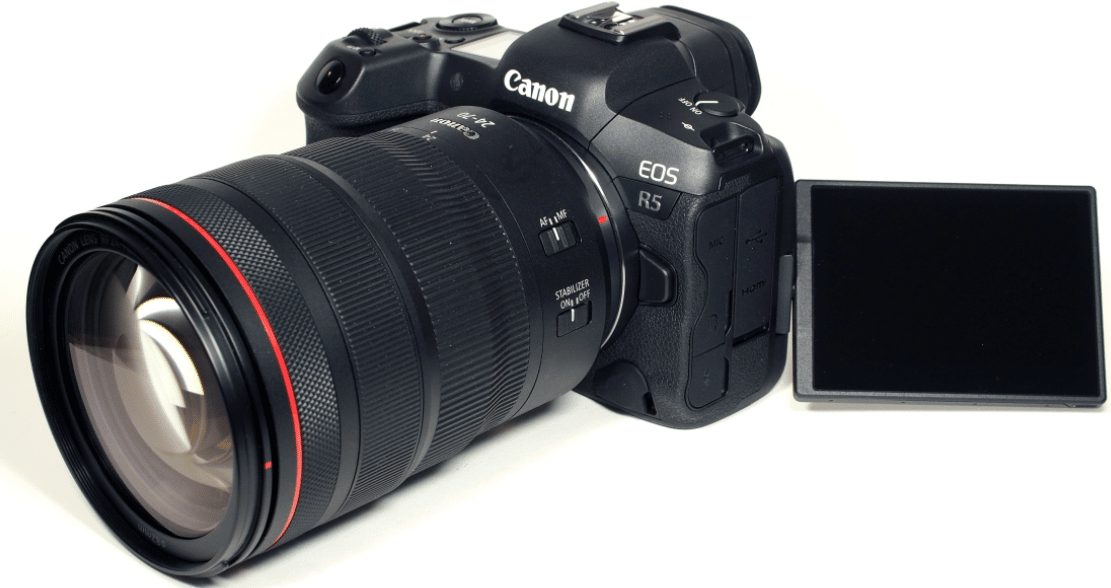 The R5's autofocus system is almost unbelievable. Its eye-detection is virtually water-tight, getting hold of human faces and holding on to them even when the subjects move rapidly back and forth throughout the frame.
Detection and tracking are also impressive thanks to the R5's Dual Pixel CMOS AF(autofocus), which means that focusing is done on the sensor.
This allows you to manually pick from over 5900 autofocus points across 100% of the sensor's horizontal and 90% of its vertical dimensions.
Design
Design-wise the EOS R5 isn't necessarily a game-changer. However, given the usability of the EOS R, which it heavily borrows from, it's not actually a bad thing.
In terms of height and width, the R5 is identical to the EOS R. In fact, only three millimeters have been added to its depth and 2.5 ounces to its weight.
Handling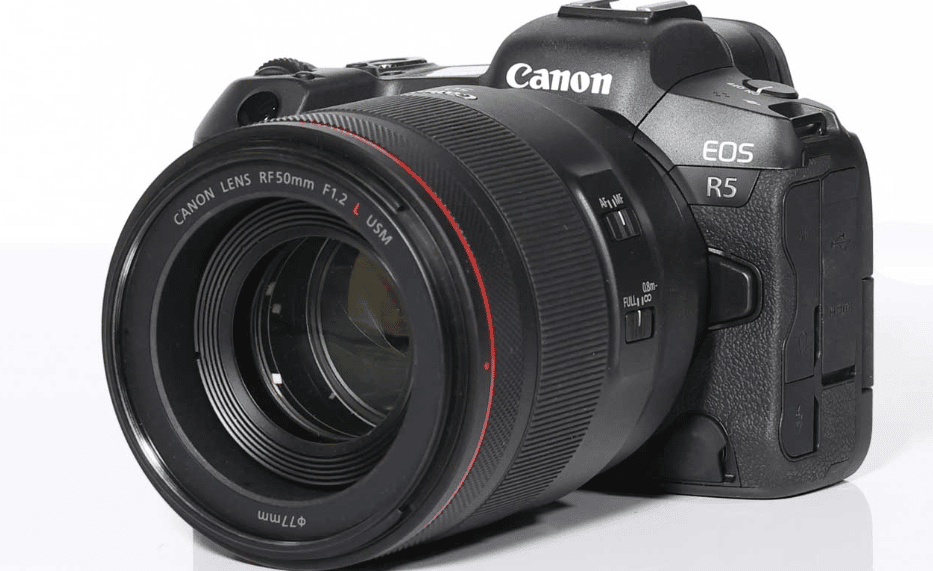 The EOS R's touch bar, the touch-responsive strip on the upper-right corner of the camera, is no more. In its place is a chunky and knurled switch for scrolling between AF points and menus.
The EOS R5 is still substantial with a deep grip that makes it comfortable and easy to hold. What's more, it's easy to carry around without feeling like a burden.
Image Stabilization
The EOS R5 and its less-capable sibling, the EOS R6, were Canon's first cameras to feature an in-built IBIS (in-body image stabilization) system.
For years Canon has reiterated that an IBIS (in-body image stabilization) system wasn't required in its cameras because its lens-based stabilization was good enough.
But as fate would have it, Canon can no longer ignore the trend because virtually all other manufacturers are releasing cameras with IBIS systems.
Lenses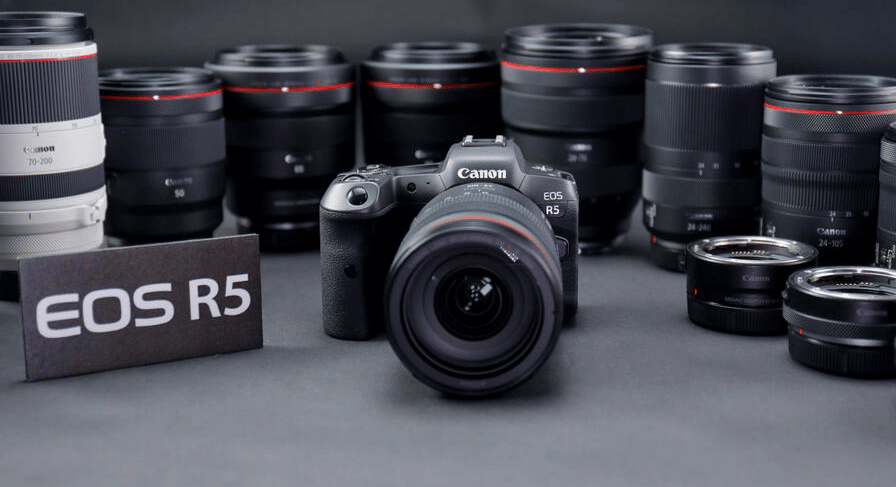 One of the best things about the EOS framework is its compatibility with accessories and EF lenses originally built for DSLR cameras.
Canon accessories such as flash systems, including hot-shoe and macro flashes, as well as electronic cable releases, work with the EOS R5 in the same way as previous systems.
Performance
With the Digic X processor on board, you can expect great things from the R5's performance. It will shoot at 20fps using the electronic shutter and 12fps using the mechanical shutter.
Battery life is also good but still not as good as a DSLR. However, you can get four hours of continuous intensive shooting on a single charge.
Picture and Video Quality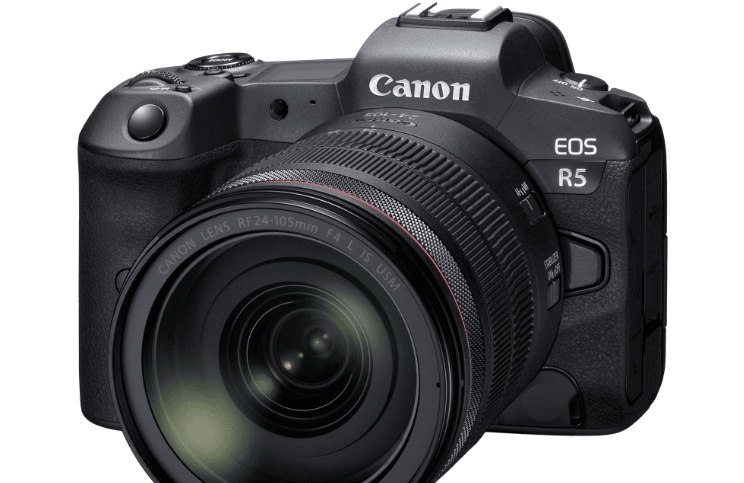 For the price you expect, the R5 shoots excellent stills, and it does. Up to ISO 4000, you should have no issues, which is amazing. If you want to capture once-in-a-lifetime moments in whatever light, the R5 will shoot ISOs up to 51,200.
Having a camera that delivers high-res images in good lighting but is also capable of shooting usable photos in the dark makes the EOS R5 an exceptional photography device.
You'll also love the R5's video performance. Canon claims that the R5 will shoot continuously for over 30 minutes at 50 or 60fps before its overheats, at which point it will recover at the rate of one shootable minute per cooldown minute.
Price
There is no denying that the EOS R5 is a pricey camera. It has a retail price of $3900, and right now, prices are pretty similar across the main online camera vendors such as Amazon.
Final Thought
To sum it all up, is the R5 worth it? The short answer is yes, and the long answer is it depends.
Looking for a camera that handles all types of photography, this is it. But, if you're just getting started on photography, you don't need an 8K camera; instead, go for something like the R6.
See Also
Best Canon Camera for Beginner