5 of the Best Drone With Infrared Camera
Best Drone with Infrared Camera – Overview
The current lineup of consumer drones is no longer just for recreational use and media production.
Drones are now being used for professional applications such as roof and building inspections, road and bridge inspections thanks to mounted infrared cameras.
An infrared or thermal camera is just like a typical camera in the way that it produces a digital copy of what the lens sees.
However, infrared (thermal) cameras use heat or infrared radiation instead of visible light to form a picture.
The subsequent image looks a lot less like how we see things in reality because infrared cameras are built to identify and display heat zones that are undetectable by the human eye.
What we see on infrared cameras are blue to red smudges, with each color shade signifying fluctuating temperatures produced by people, materials, and objects.
Red typically indicates warmer zones, while blue indicates colder zones.
However, some thermal cameras use different color schemes.
Depending on the application, the camera's thermal scale can be adjusted to increase or decrease color contrast for a more accurate temperature analysis.
| Drone with Infrared Camera | Camera Resolution | Video Resolution | Max Speed | Max Flight Time | Battery | Controller | Weight | |
| --- | --- | --- | --- | --- | --- | --- | --- | --- |
| Autel Robotics EVO II Dual FLIR Bundle | 48 Megapixels | 8K (4320p) | 45mph | 40 Mins | 7100mAh | Yes | 19 pounds | |
| DJI Mavic 2 Enterprise Advanced | 48 Megapixels | 4K (2160p) | 45mph | 31 Mins | 5000 mAh | Yes | 12.67 pounds | |
| Parrot Anafi Thermal Drone 4K | 21 Megapixels | 4K HDR @30fps | 35mph | 26 Mins | 2700mAH | Yes | 6.35 pounds | |
| DJI Matrice 600 Pro Hexacopter | 12 Megapixels | 4K (2160p) | 40mph | 30 Mins | 4500mAH | Yes | 22 pounds | |
| Yuneec Unmanned Hexacopter System | 12 Megapixels | 4K (2160p) | 45mph | 28 Mins | 5250 mAh | No | 3.6 pounds | |
Let's look at some drones outfitted with infrared cameras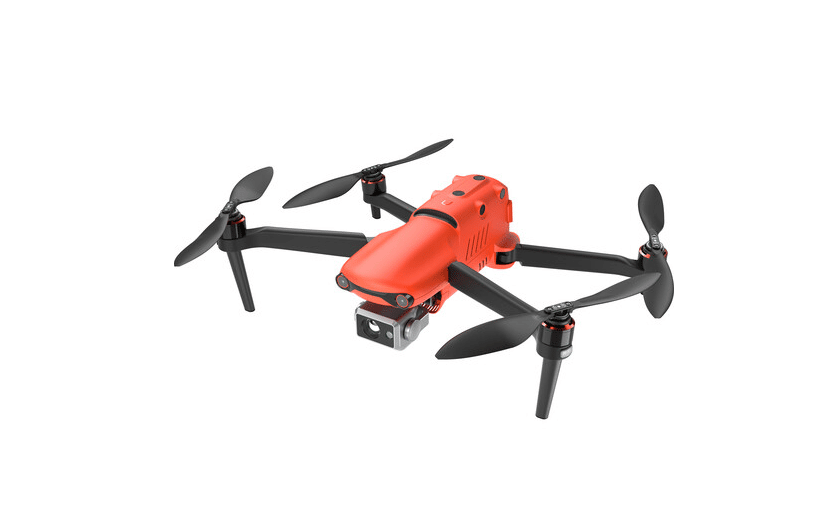 The Autel Robotics EVO II is designed with portability and reliability in mind.
With its 8K camera and Dual 640 FLIR infrared (thermal) sensor with a 640p resolution, it gets the job done.
This drone has a foldable design and 360-degree obstacle avoidance, making it one of the best drones for enterprise professionals, contractors, and even first responders.
The EVO II has a 7100mAH rechargeable battery giving it 40 minutes of flight time in forwarding motion and 35 minutes at hover.
In addition, the EVO II has a battery locking system that prevents the battery from ejecting during high-speed maneuvers.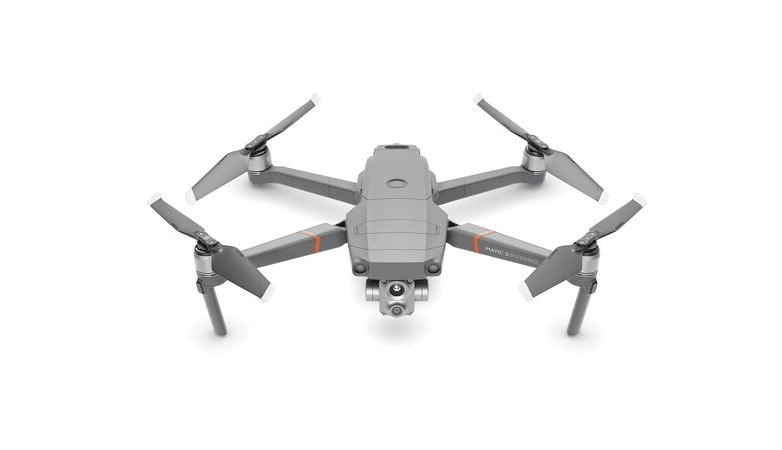 The DJI Mavic 2 Enterprise has a 640p infrared (thermal) camera that can see through the foliage, smoke, or low-light conditions to find what's missing.
It also comes standard with a 48MP camera so that no detail goes unnoticed.
The Mavic 2 has 32x Zoom, allowing you to hover it at a distance and capture fine detail.
You can also create up to 240 waypoints to conduct automated checks in difficult environments.
3. Parrot Anafi Thermal Drone 4K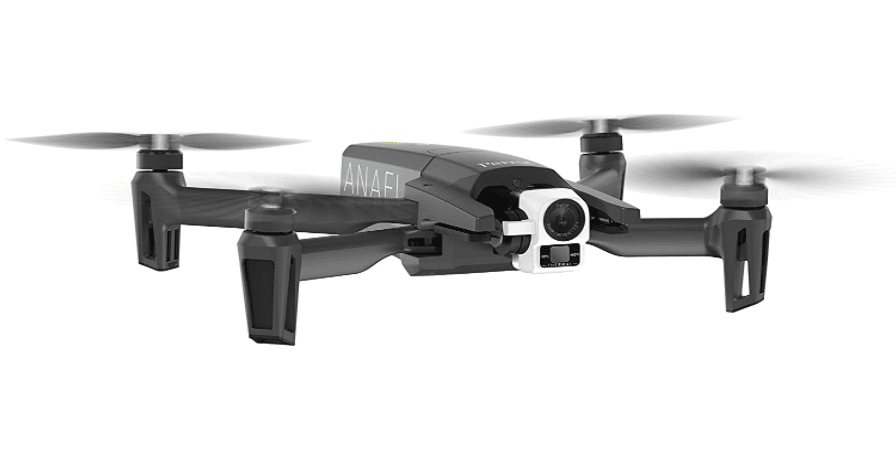 The Parrot Anafi Thermal 4K is an ultra-compact and lightweight infrared (thermal) drone that's efficient and accessible to all.
It has two high-precision cameras, one 4K HDR camera with 3x optical zoom, and one FLIR radiometric thermal camera.
Thanks to its foldable and ultra-compact design, the Anafi Thermal drone can unfold and be operational in 3 seconds.
Moreover, it works with the Free Flight 6 app, where you can easily switch from color view to infrared or merge the two for a more precise rendering.
The Anafi Thermal 4K generates thermal readings for construction pros, but it can also be used for safety monitoring and checking for power supply failures.
In addition, it can also be able to approach animals and record without scaring them.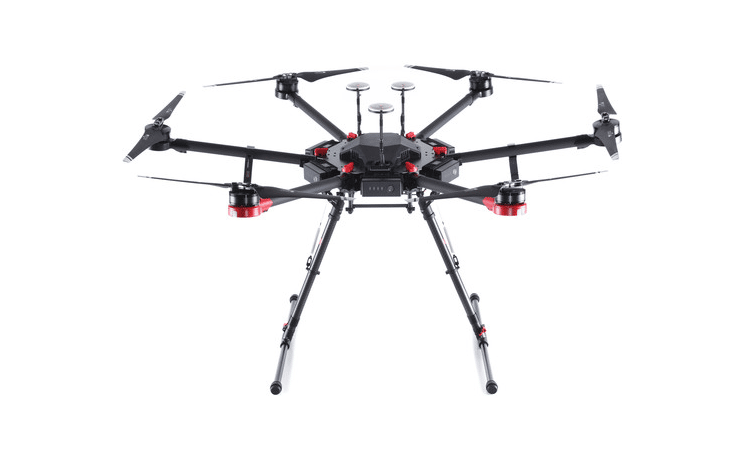 The DJI Matrice 600 Pro inherits all good things from its predecessor, the DJI M600 but with flight performance and payload improvements.
In addition, it has pre-installed antennas and arms that lessen the time needed for setting it up.
The Matrice 600 Pro has a modular design that makes it easy to mount additional components such as infrared cameras.
What's more, it has an airframe equipped with the latest DJI tech, including an HD transmission system, flight controller, and battery management system.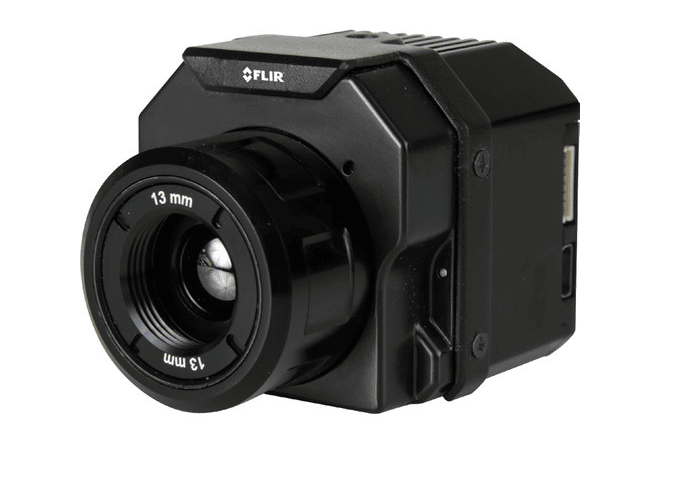 Out of the box, the DJI Matrice 600 Pro Hexacopter doesn't have an infrared (thermal) imaging camera.
Fortunately, it works with the FLIR Vue Pro R Thermal Imaging Camera, and once installed, they work seamlessly.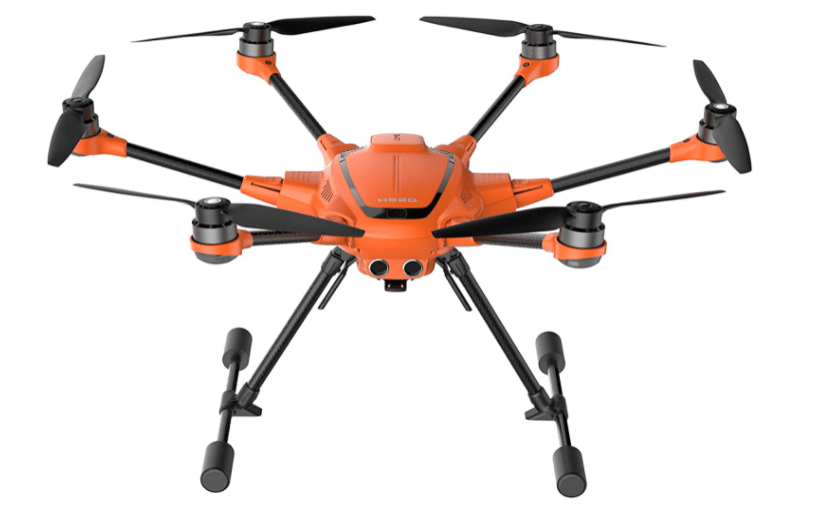 The Yuneec Unmanned Hexacopter System is designed with the inspection industry in mind. It has six rotors that allow for stable and precise flights.
In addition, it has focal-length lenses that will enable it to fly at a greater distance from an object and still capture incredible detail.
The onboard camera captures 12MP still shots or 4K and Full HD video.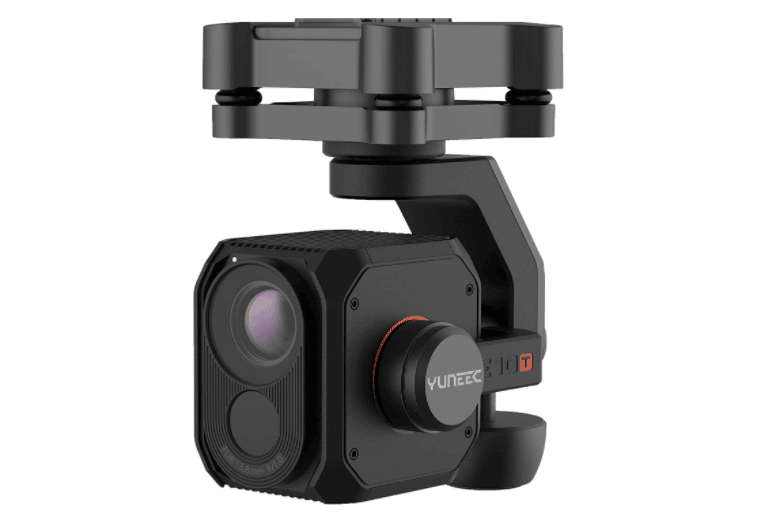 Out of the box, the Yuneec Unmanned Hexacopter System doesn't have an infrared (thermal) imaging camera.
Fortunately, Yuneec makes the E10T Thermal Imaging Camera for this drone specifically, and once installed, they work seamlessly.
Final Thought
To sum it all up, drones with infrared cameras can be used in various instances in the modern world, from search and rescue to building inspections.
As a result, drone makers such as DJI have designed drones with infrared cameras, some of which are illustrated above.