Best Underwater Camera Case
What is the Best Underwater Camera Case
Photographers may find underwater photography to be both interesting and demanding.
While there is a learning curve, the appropriate equipment can help in getting to where you want to be.
To begin with, the most critical gear you'll need is a sturdy underwater camera case.
Why You Need A Good Quality Underwater Camera Case
If you're a novice underwater photographer, a good quality case to safeguard your camera is essential because you're bound to make a few mistakes.
Knowing that your valuable, and most likely first, the camera is safe while diving allows you to focus on the task at hand.
Not all underwater camera cases are made the same though, and as you can guess, if one fails on you, your camera is dead.
A very common experience new underwater photographers have is having water damage early on their learning journey.
To help you make the right choice, this curated list has some of the most reliable underwater camera cases for these three beginner-friendly cameras:
GoPro Max
Sony Alpha a6000
Smartphones
Best Underwater Camera case for The GoPro Max
GoPro action cameras already have above-average water protection and can be used as underwater cameras but with some limitations in terms of depth and time duration.
You need to protect them with a professional underwater case for serious underwater sessions.
ParaPace 45M Waterproof Housing Case for GoPro Max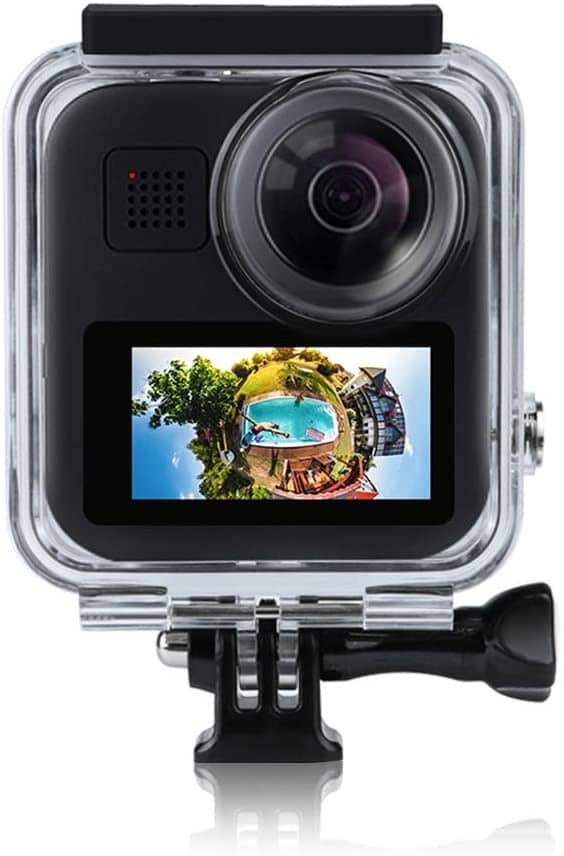 Here is one case that does exactly what you would expect it to do and is highly rated among pros who use the GoPro Max for underwater photo and video capture.
The ParaPace 45M Waterproof Housing Case for GoPro Max allows you to use your GoPro Max deep underwater safely. It has all the features you might need from an underwater camera case.
Key Features
Diving Depth: 45M/147ft
Curved tempered glass lens cover
Transparent waterproof shell
Made for the Go ProMax
Best Underwater Camera Case for The Sony Alpha a6000
The Sony Alpha a6000 is an excellent entry-level camera but its body is not designed for underwater photography.
The best underwater camera case for the Sony Alpha a6000 is:
Seafrogs 40m/130ft Waterproof Underwater Camera Housing Case
Seafrogs is a big name when it comes to underwater camera accessories so it's no surprise that they make some of the best underwater camera cases out there.
For the beginner-friendly Sony A60000 mirrorless camera, the Seafrogs 40m/130ft Camera Housing Case is an excellent choice.
Apart from the obvious features like its 130ft depth camera protection IPX rating, this beast is packed with features that beginners will find helpful right off the bat.
For instance, the Seafrogs  Sony A60000 underwater case has an inbuilt leak detection sensor, and an EachShot red filter to help you take better underwater photos without blue spectrum interference.
 Key features
Materials: Hard polycarbonate, stainless steel, EPDM rubber, ABS plastic, and clear plate glass
Ports: Dual-fiber optic ports
Additional features: Each shot red filter, the leak detection sensor
Best Underwater Camera Case for Smartphones
Modern smartphones have excellent cameras that can take amazing underwater photographs and videos.
However, their IPX rating, only allows them to be submerged for brief periods hence why you need a proper underwater case to use them as underwater cameras.
The best underwater camera case for smartphones is:
ShellBox Professional Diving Waterproof Protective Case
You can tell from looking at the ShellBox pro diving waterproof case that it is made for amateur photographers who are serious about doing real underwater photography using a smartphone as their primary camera.
ShellBox underwater cases have always been highly rated and this new version comes with additional features.
This is a pro-case with an IP68 rating allowing you to use your phone at depths of up to 66ft.
Its hard-shell body has all the buttons and cutouts you need as a photographer as well as a hooking point for a compatible underwater tripod or gimble.
Key Features
IPX Rating: IP68- up to 66ft depth
Compatibility: Compatible with a wide range of smartphones (resizable body)
Has dedicated camera and volume buttons
Waterproof, snow proof and dustproof
Touch-sensitive tempered glass
Touch-sensitive transparent window and clear back
Lightweight design
All in all, protecting your camera while underwater is as important as taking photos or videos.
With the right gear, you can ensure that every diving session goes smoothly and that your camera will serve you throughout your learning phase.
Best Aqua-Vu Underwater Camera
Best Underwater Disposable Camera
Best Professional Underwater Cameras